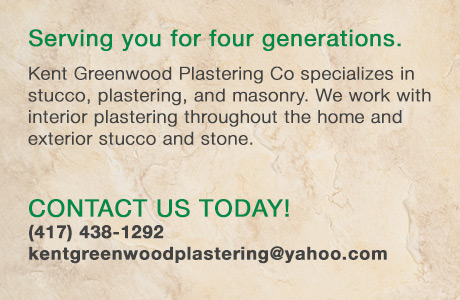 Plastering Contractor in Granby, MO
Serving Granby and Newton County, MO, Kent Greenwood Plastering Co. has been providing durable, reliable and efficient plastering services and the installation of exterior siding, interior finishing and insulation for home construction and remodeling projects in Newton County, MO, since 1989. We specialize in stucco, plastering and masonry.
Your Local Stucco, Cement, & Siding Contractors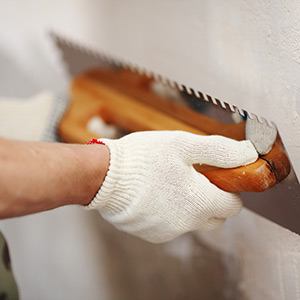 Our region of southern Missouri is not known for its mild climate. Our low elevation, flat terrain and abundance of water means constant humidity and exposure to increasingly bitter Arctic cold in the winter and subtropical Gulf of Mexico heat in the summer. These temperature shifts are hard on your home's exterior structure, and even harder on your energy bill if your walls aren't properly insulated. That's why we provide comprehensive and durable siding installation in Newton County, MO. We offer exterior siding services, such as plastering, masonry and installation of a wide variety of stucco finishes, as well as interior plastering and finishing services. We particularly specialize in insulation installation in Newton County, MO, to ensure your home regulates, maintains and circulates adequately warm or cool temperatures throughout the seasons.
We are certified plastering contractors and installers in exterior insulating and finishing systems (EIFS). We are also your custom cement contractor in Newton County, MO, and we're happy to offer exterior stonework, masonry, and hardscaping services. We bring over 25 years of installation experience and regional expertise to the table, ensuring that every service we provide is thorough, reliable and meets both your functional and aesthetic requirements for decades to come. Customers contact us because:
We are your certified Tri-State Area Contractors.
We are a proud member of the Home Builders Association.
We offer over 25 years of experience in siding.
We are your stucco contractor in Newton County in Granby, MO, and the surrounding areas, including Joplin, Pittsburg, Mt Vernon, Nashville, Greenfield and more.